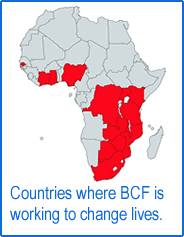 Our goal: By 2044 to have enabled a billion children to attend government schools which operate as centres of excellence while being supported by a committed informed parent.
Our track record: Over 2 million children have been impacted by our programmes. BCF is well on track to achieve its 2044 goal.
BCF has been commissioned by the Ugandan Ministry of Education and Sports and the Zambian Ministry of General Education to assist them transform every school in their countries into centres of excellence.
Over 70% of students at previously under performing schools in rural and township schools in South Africa obtained a university entrance or technical university matriculation pass every year since 2017.
61% more students graduated from previously under-performing primary schools in Lesotho compared to a control group of schools.
BCF will complete the training of 1,020 principals in the Limpopo Province in South Africa to turn their schools into centres of excellence as soon as the Covid 19 pandemic regulations permit.
What we do: BCF works to promote social mobility and alleviate three global pandemics – poor educational outcomes at government schools, the breakdown of family cohesion, and family and gender-based violence.
BCF offer to Ministries of Education: BCF trains officials of ministries of education to train district officials to transform every school in their district into centres of excellence. Thereafter, each ministry of education rolls out the Programme throughout their country at a speed it determines appropriate. BCF supports each ministry of education while it rolls out the Programme.
BCF offer to Philanthropists and Corporate Donors: BCF offers potential donors the flexibility to sponsor BCF programmes in any country, province, state or district of its choice.
BCF offers each donor assurance that it will obtain the best possible return on its investment. £900 will transform a school into a centre of excellence. Based on 300 children attending each school an investment of only £3 will potentially transform the life of each child.
Gordon Brown praised BCF for its dedicated work towards improving educational outcomes for children and youth in sub-Saharan Africa. He noted that the work BCF undertakes is very important in achieving the United Nations Sustainable Development Goal 4, quality and inclusive education for all.

Gordon Brown, UN Special Envoy for Global Education and previous Prime Minister of Great Britain.

read more ►
"May I commend the work of the Billion Child Foundation which has set as its goal the establishment of programmes to train the parents of a billion children around the world over the next thirty years"

Archbishop Emeritus Desmond Tutu

read more ►
"I am delighted to throw my weight behind this stellar initiative. We are running out of time and a billion children need us."

Professor Jonathan D Jansen, Vice-Chancellor of the University of the Free State

read more ►
"

Education is the great engine of personal development. It is through education that the daughter of a peasant can become a doctor, that the son of a mine workers can become the head of the mines, that a child of farm workers can become president of a great nation."

Nelson Mandela.
Nothing stops bullets, famine and ignorance like education.

You can play your role ensuring a billion children enjoy an excellent education which will allow them to gain a tertiary qualification, complete an apprenticeship or gain employment which will enable them to enjoy a proud self-sufficient middle-class life. More

Principal decides not to quit as a result of BCF training

Mr Ryan Thamsanqa Ntintili principal of Dr Nhlapo Intermediate School reporting on progress his school has made while attending the BCF Outstanding Public Schools Programme.
Get involved

in or

Donate

to help
Help

parents of millions of children attend our highly acclaimed Win-Win Parent Training Programme

learn more…

Help

over

6 654

currently under-performing schools during 2015/16

learn more…

Help

teachers from

200

schools attend our highly acclaimed Outstanding Teacher Programme

learn more…

Help

learners at over

2 000

schools to become inspired to seize the opportunity to gain a great education

learn more…