BCF is registered as a charity/non-profit in South Africa (079-704-NPO), in Ghana (CG081082019), in The Gambia (2019/C9709) and with the Charities Commission for England and Wales (1153855).  It was founded in 2008.
Our International Team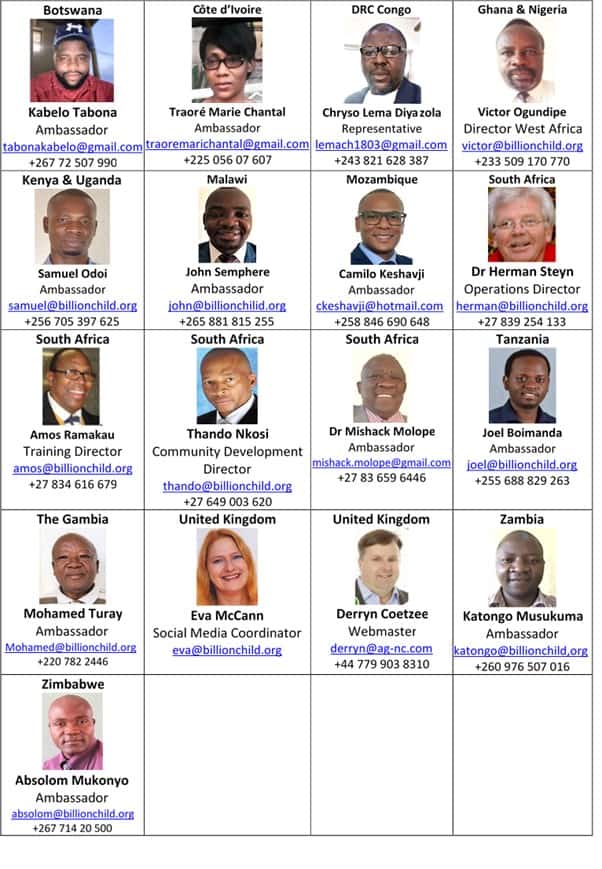 Our Goal
BCF will, by 2044, have enabled a billion children to attend public schools which operate as centres of excellence while being supported by a committed informed parent. This with the goal of enabling social mobility.

Why we do it
There is only one route to end poverty, poverty related disease, disadvantage and ignorance – an excellent education which will allow children to graduate from high school, complete a tertiary qualification or apprenticeship or gain employment which will allow them to enjoy a fulfilling middle-class life.
What we do
BCF conducts mass action-oriented, hands-on, practical training programmes to provide skills and knowledge to thousands of headteachers/principals, teachers, parents, community leaders, pastors and community based organisations.
BCF works mainly in rural areas and urban townships in developing countries where under-performance of schools and poor parenting practices are endemic.
Through mass training programmes we deliver our programmes at a fraction of the cost other NGOs require to provide benefits to relatively few children.
We differ from other NGOs by:
Offering mass training to upgrade parenting and education in entire townships, districts and provinces;
Working with all stakeholders who impact directly on the quality of each child's education – parents, child carers, learners, teachers, school management teams, community leaders and community based organisations;
Delivering our programmes at a fraction of the cost other NPOs require to provide benefits to relatively few children.
The problems  BCF tackles
The epidemic of poor education and parenting leaves millions of people ignorant, uneducated and largely unemployable in the twenty-first century.
Family and gender based violence, the decay of family cohesion and conflict within families.
The consequences of our work
Within twenty years participating countries will have significantly increased the number of middle-class educated people proudly contributing to their national economy and global intellectual capital.
Donors which have funded BCF
British Airways, Danisco (Danish), Future Winners International (UK), HCI Foundation, Investec, Iqraa Trust, Quirk, SAB, SA National Lottery Distribution Trust Fund, Sanlam, Sasol, Van Reenen Steel, UNICEF, VVOB – The Flemish Association for Development Cooperation and Technical Assistance, and Worley RSA.
Accountability and Transparency
BCF activities and decision are guided by our constitution, trustees and a robust strategic plan.
BCF follows best practices in governance, ethics, donor relations and compliance with the law.
Audited financial statements are prepared or reviewed by an independent accountants and auditors.
BCF recognises that all donations are discretionary, that donors have the right to know reasons for actions or decisions. BCF is open, frank and honest in all communications, transactions and operations.
The Billion Child Foundation South Africa is regulated by the South African Revenue Service and the Department of Social Development. The Billion Child Foundation UK is regulated by the UK Charities Commission and Inland Revenue.