THE BCF INTERNATIONAL SCHOOLS CENTRE OF EXCELLENCE PROGRAMME
The Challenge to Global Education
Despite billions of dollars being invested in initiatives to improve educational outcomes, over a million public/community schools around the globe stubbornly remain under-performers. These schools are attended by an estimated 550,000,000 children.
The global population is rapidly evolving into two worlds – those with education, jobs, money and a future for themselves and their children, and those with little education, no permanent job and no prospects. And these people are increasingly hungry and angry.
Urgent action is essential in every country to ensure every school becomes a centre of excellence.
We just don't have time to turn around one school at a time.
We don't even have time to turn around 50 or even 1,000 schools at a time.
We need to turn at least 200,000 schools into centres of excellence every year if we are to turn every public (government) school into a centre of excellence within five years.
Clearly a completely new programme is required.
The Solution
The BCF International Schools Centre of Excellence Programme (ISCEP) is scalable, and has the technology, pedigree and a cost-effective pricing model to enable Ministries of Education of every country to sustainably reinvent their district offices and all the schools in each district to become centres of excellence within 5 months at less than USD 914 per school.
The Programme
BCF trains employees of each Ministry of Education to
Train the district director and the top management teams of each district office to reinvent their district office to become a centre of excellence focused on every school becoming a centre of excellence
Simultaneously train schools inspectors/circuit managers/education officers to train and empower the principals of schools which report to them to reinvent their schools to become centres of excellence.
Track Record
Lesotho
This Programme was presented in Lesotho during 2015.
In the Report by the Lesotho Ministry of Education and Training to UNICEF, who initiated and funded the Programme, the Ministry reported:
The Programme was a significant success.
The percentage of learners graduating at the end of year 7 at previously under-performing primary schools whose principals had been trained by their school inspectors increased by 54% in 2016 while the pass rate of control group of schools declined by

7%

indicating an overall improvement of 61% compared to school in the control group who had not participated in the Programme.
The role of the Inspector changed from being a compliance officer to that of an Excellence Leader who empowered principals to reinvent their schools to become centres of excellence.
This Programme did not focus on academic outcomes. It focused on changing the culture of each school to become a centre of excellence. The excellent results followed.
Principals acquired the skills to make progress on their journey to reinvent their schools to become centres of excellence and in so doing inspired the staff to improve the culture of effective teaching and effective learning.
The number of schools gaining

100%

pass rates increased from 3 schools to 7 schools.
South Africa
In South Africa this Programme empowered principals to change the culture of their schools to become centres of excellence. Excellent academic results have followed.
High schools whose principals had attended this Programme on average increased the percentage of learners gaining a Bachelor or Diploma matriculation pass which entitles them to attend university or technical university from 53% in 2015 to 71% in 2022. (Results provided by the South African Department of Basic Education)

Despite Covid, the percentage of students gaining a university (A Level) or technical university matriculation pass in 2021 declined by only 2% compared to 2019. This is a massive achievement as schools are situated in poverty-stricken rural villages, in the semi-desert Kalahari and the sprawling townships on the outskirts of cities where internet reception is poor and data very expensive in relation to the income of their parents.
Primary school results achieved by learners in Years/Grades 5-7 in the Northern Cape were equally significant.

Discover what Principals say about the amazing successes they have achieved – click here.
This programme is the silver bullet the world has been waiting for to upgrade education in every country especially in indigenous populations.
International awards won by this Programme
Two panels of internationally renown academics and educationalists after conducting an in-depth study of this Programme recognised the ability of the BCF International Education Districts Centre of Excellence Programme to enable any country to reinvent all its schools to become centres of excellence within five years and awarded BCF:
NGO Impact of the Year at the 12th annual Eduweek Conference held in Johannesburg in June 2018. Eduweek is the biggest annual educational conference held in Africa with over 4,000 delegates from all over the continent attending.
The Education Leadership Award at the 7th World Education Congress 2018 held in Mumbai, India July 2018.
About the Programme
This Programme teaches principals of under-performing and adequately performing schools:
How to reinvent their schools to become centres of excellence.
How to inspire teachers, learners, parents and community leaders to work together to turn each school around to become great public schools with proud academic and social outcomes.
Principals attend four workshops over for four months. Implementation and the fostering a culture of empowerment and collaboration are measured.
The Billion Child Foundation negotiates MOUs with the national, provincial or state departments of education to deliver these programmes.
THE BCF PUBLIC SCHOOLS STRATEGIC PLANNING PROGRAMME
Hundreds of public school principals have developed robust strategic plans unique to the circumstances of their schools.
Principals have
led their schools to become highly successful public schools
fostered a culture of empowerment and collaboration
improved marks in all grades
developed high performing teams throughout their schools
created a high performance culture at their schools
mobilised and built relationships between all stakeholders – SMT, teachers, learners, parents , SGB, community leaders
provided each learner with the opportunity to become a well-rounded individual who will succeed in the world
effectively developed the reputation and image of their school.
Discover what principals say about the amazing progress they have achieved. click here.
THE BCF NATIONAL PARENTING SKILLS TRAINING PROGRAMME
This Programme is designed to train teachers, other professionals and church and community leaders how to conduct parenting skills training which they present annually in their local language. To date the Programme has been presented in six languages to over 270,000 parents.
Expected Outcomes of this Intervention
For parents to learn the practical skills they need to raise their children to be self-reliant, confident individuals.
For parents to become involved in the creation of child-safe, child-friendly and supportive environments in their communities through the establishment of Community Parent Forums.
For parents to become actively involved in all aspects of their children's education including the monitoring of reading and homework each day and talking up education in the home.
A reduction in callouts by SAPS to family violence and violence against women and children.
Parents will enjoy being parents and be empowered to confidently raise their children in harmonious cohesive homes.
Pastors and teachers who facilitate this programme will become informed authorities on parenting skills in their communities.
When children of the parents trained themselves become parents, they will in all probability deploy the same cutting-edge practical parenting skills appropriate for the 21st century used by their parents. The gains made by this intervention are therefore sustainable from generation to generation.
Each parent attends three two-hour workshops every year from the birth of their first child until their children have left school.
BCF encourages each school to form a Community Parenting Forum
Initiatives launched by Community Parenting forums include:
'Walking taxis' to ensure children can commute to and from school safely
Launching drug rehabilitation initiatives for youth in their community
Raising funds for a range of new projects and facilities to create a child safe community
Launching career counselling programmes
Launching cultural and sporting programmes
Bringing successful people who previously lived in the community to provide role models and tell success stories to inspire people to strive for a better life
Persuading food chain stores to donate soon to be out of date food products to enable community members to provide daily feeding programmes for indigent families and child-headed homes
Providing children who live in informal housing with a venue with electric light such as a church where they can complete their homework after school hours.
Launching an Angel Parenting Organisation where abandoned children and children from child-headed homes are able to visit their Angel Parents every afternoon to discuss health, learning and social challenges including bullying they are experiencing, to report on their day at school, to report on successes they have enjoyed during the day, on homework completion, and importantly to experience an adult praising them when they achieve.
Establishing a Council of Elders to assist children who want to escape being a gang member, stop abusing drugs and smoking, satanism and being a child prostitute.
Discover what parents and teachers say about this programme – click for parents here. and click for teachers here
See teachers delivering this Programme – with passion Sesotho, isiXhosa and Afrikaans.
THE BCF ANGEL PARENTING PROGRAMME
BCF selects, trains and manages Angel Parents and Angel Children.
Angel Parents are parents who do not adopt street children or invite them to live in their homes but take a daily interest in the child, ensure they complete their homework and study for examinations and if any personal issue related to health, bullying, poor nutrition, drugs, gangs, etc. arises, step in as the adult in the relationship to involve the appropriate organisation (teacher, school, clinic, social welfare, etc.)
Having an Angel Parent has provided Angel Children with the self-confidence, self-reliance and back-up to complete their schooling and obtain meaningful work which will ultimately lead to a proud middle-class life.
Some adults who were themselves 'Angel Children' are now 'Angel Parents'.
This programme has been running since 2008.
THE BCF CIRCUIT MANAGER TRAINING PROGRAMME
This Programme teaches Circuit Managers the skills they need to provide professional and strategic leadership to the principals and school governing bodies of the schools which report to them.
THE BCF DISTRICT DIRECTOR AND DISTRICT OFFICE DEVELOPMENT PROGRAMME
District Directors, management and personnel are trained to turn their district offices into centres of excellence.
THE BCF DISTRICT TEACHER DEVELOPMENT CENTRE MANAGER TRAINING PROGRAMME
This Programme provides ongoing coaching to enable District Teacher Development Centre Managers to reinvent their Centres at which teachers attend short-course training to upgrade their in-class teaching skills and knowledge as centres of excellence.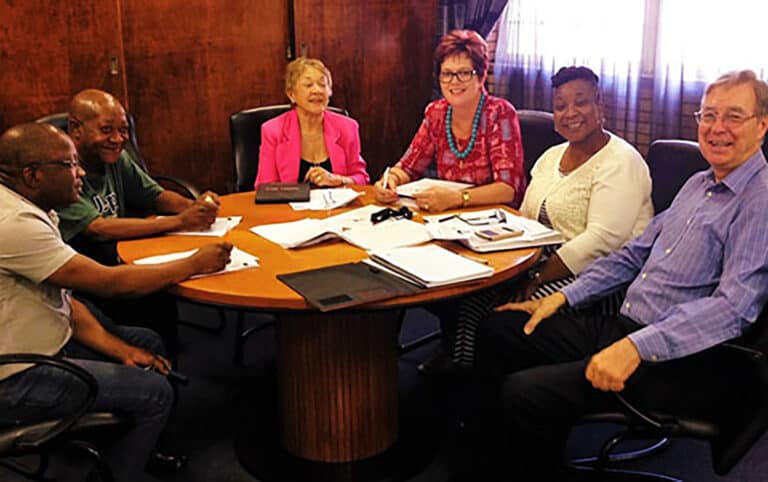 The Fezile Dabi District Teacher Development Centre Leadership Team during a coaching workshop conducted by BCF
THE BCF PROGRAMME TO INSPIRE LEARNERS TO SEIZE EDUCATION
Most principals of under-performing schools report their greatest challenge is the lack of self-motivation of the learners, that they sit through school because they have to, pay little attention to homework and cannot wait to escape at the end of the day to their after-school social activities.
BCF is currently developing this programme which makes no attempt to tell learners why they need an education but rather to discover for themselves why education is important to them personally.
It relies on 20 minute interventions every month which involve each learner in activities in which they ultimately discover for example that they will need mathematics to become an apprentice motor mechanic, English to gain a salary sufficient to buy the kind of car which they hope to drive when they leave school, etc.
THE BCF SCHOOLS SAFETY PLANNING AND EVACUATION PROGRAMME
BCF trains personnel from schools to develop their school's unique school safety plan. During training evacuation of schools and school hostels is practiced.