10 September 2020
BCF and the District Directors of Vhembe East and West and Capricorn North proudly announce the resumption of the roll out of the SA Schools Centre of Excellence Programme.
Starting immediately Circuit Managers will visit schools to monitor implementation of each school's centre of excellence strategic plan and of the management systems and leadership skills they learned when Circuit Managers trained them in March prior to the lockdown. During these visits Circuit Managers will coach principals experiencing problems with implementation.
The second round of training will begin in the last week of October or second week of November.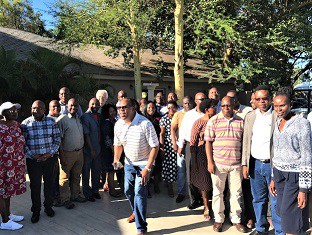 Circuit Managers with BCF Training Director Amos Ramakau during a break at the first workshop.