11 November 2020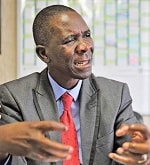 Few people rise from being a gardener to being featured on CNN, become a director of the Billion Child Foundation and Executive Director of a celebrated school.
Born into poverty, Fannie refused to drop out of school when his family could no longer afford to pay and instead became a part-time gardener to subsidise his schooling. This determination to obtain an education culminated in him being awarded a doctorate for compiling the first Setswana-English dictionary.
Initially as a teacher and later as a school principal he inspired tens of thousands of pupils not to drop out of school but to work hard to obtain an excellent education. Many young people who attended the schools which he led have been among the top performing matriculants in South Africa for several years.
Fannie is an inspiration to all who meet him. But don't get the wrong idea. He does not spend his life preaching inspirational messages. That is not Fannie! He spends every waking moment working on his mission which is to ensure each child is able to attend a school which operates as a centre of excellence at which they not only receive excellent education but enjoy every opportunity to become a well-rounded individual who will succeed in the future.
Not only was he featured on CNN, but he is the winner of numerous awards, initially as a teacher but later as a principal winning national awards as principal of the year.
When Dr Fannie took over leadership of Khensani Primary School it was an ailing and run-down school
struggling to keep its doors open in a disadvantaged area ringed by informal settlements where unemployment and poverty is high and parents did little to encourage their children to attend school never mind doing homework!
When he first arrived at the school, he discovered that few parents wanted their children to attend the school. Within weeks he had begged paint, plaster and window glass from local hardware stores and indigenous plants from local nurseries. Then he persuaded parents to help him fix the broken windows, plaster the cracks, paint the walls and plant trees and a vegetable garden.
Within four years Fannie had transformed his school into one of the top performing government schools in South Africa and sadly had to turn parents away as his school was full despite having personally persuaded several companies to build additional classrooms and a library.
Fannie ascribes much of his success to creating a highly effective culture of teaching and learning. He arranged successful exchange visits for his teachers and teachers from schools in the UK and New Zealand and expects and gets consistently high performance from his teachers and students.
The overwhelming sense one feels when visiting the schools he has led is of pride, discipline, enthusiasm and consistency.
The Billion Child Foundation is proud that this giant in education has been one of its directors for the past six years.