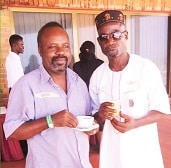 Victor Ogundipe our Country Manager in Ghana and Chief Osman Fukuyama who is keen to see BCF programmes launched in Ghana represented BCF at a conference in Accra organised by the Ghana Civil Society Organisation to discuss the Ghana Sustainable Development Goals.
They introduced the BCF and its programmes. High appreciation for the role BCF can play in transforming Ghana schools into centres of excellence was expressed by delegates to the conference.
Victor's personal email address is vtogundipe@gmail.com  His BCF email address is victor@billionchild.org.
21 June 2019