Thanks to the generosity of Friends of the Billion Child Foundation we are able to relaunch our training programme which will empower 1,020 principals to transform their schools into centres of excellence on Monday 17th January.
This programme which was launched in March 2020 was halted by Covid 19.
Nearly half a million children attend these 1,020 schools and, based on results previously achieved, they can look forward to vastly improved results at the end of this academic year.
Why do we expect such a sudden jump?
Here is the answer.
The matriculation results achieved at Secondary Schools in the Fezile Dabi education district of the Free State Province in South Africa after principals had attended the SA Schools Centre of Excellence jumped during the year of training as is shown below.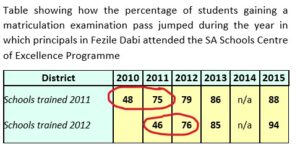 Again our thanks to our generous donors.